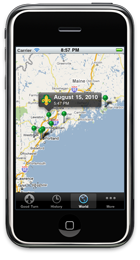 We are just a small group of one developing this and donating it to the world, so please be patient with support.
1. Check the FAQ
Please check the Frequently Asked Questions first. Any common questions and answers will be posted there.
2. Send and Email
For unanswered support questions, bug reports, or other help send email to support@stephenhouser.com.
Suggestions or other feedback, send email to feedback@stephenhouser.com.
3. Locate The Doctor
If you notice an inconsistency in the Universe, you should try and locate The Doctor.